This guest post is both an update on our previous coverage of Connect2Mason and the first in our new series about innovative models of interest to college media sites.
George Mason University has an interesting community; with many of the students living off-campus or attending classes at one of the four satellite campuses, finding a way to reach out to and work with them can be difficult. We are always looking at what's going on online to figure out which tools can help us best.
With that in mind, we've launched two websites, Mason Votes and onMason, in the past year and a half. We're also in the midst of a second redesign of Connect2Mason, our convergence website which pulls content from all of our other student media outlets. We've also been pretty serious about expanding our social media presence to cover the needs of our diverse community.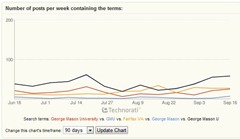 onMason
At the beginning of this semester we launched a new site called onMason. During the last two years, we've noticed that a lot of students are out there, blogging, sending pictures from their phones to the web and creating websites. We felt that we were missing a serious opportunity to bring student-created media to the forefront because, even though we run searches, there's always going to be a huge amount of stuff we're going to miss.